I'm doing a book launch next weekend for Volume I of Resistance, John Percy's history of the Democratic Socialist Party & Resistance --1965-72. That's because I can speak with reasonable confidence about that history during the seventies as I was a participant. I think I was, as I get listed in the index so I must have been there.
Coincidentally, Louis Nowra's 1999 memoir, The Twelfth of Never, also carries within it my good self as a participant. I live within its pages as 'David', and this 'David' character went on to do the things Percy says he did in Vol I of the history.
So I appear to be in other peoples' discourses but can boast none of my own. I'm wondering if this is an oversight on my part.
A memoir unfortunately assumes that you have a memory. So you may have to excuse me if I seem a touch reticent in regard to pulling, by recall alone, a life story together. After I launch this history book locally I fear I may run out of people whom I can count on to do it for me.
So I have to ask: where have I been since 1972?
As I said, maybe I'm not the one to tell you. I may make it into a future volume of Percy's trilogy but I seem to have been expunged from Nowra's second memoir, Shooting the Moon. But hey, with a memory like mine how can I afford an ego? To be fair, if you want something recalled right you have to recall it yourself.
On the question of preference (which you were surely going to ask): whats' preferable, being part of a history or part of some one else's autobiography? -- I fear that I am disinterested. Outside of a limited network who's to know? Except you, of course, because I just told you.
It's no wonder that by the time it's all over epitaphs are short and pithy.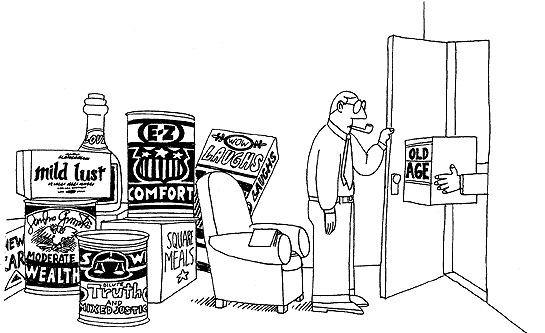 B.Kliban composes an epitaph