A change is as good as a holiday... so I used my time away to retool and to set my sites on 2007 (even if I fell asleep sometime after eleven on January 31st before the New Year arrived). I did the following in regard to 2007:>>>
I took notes (where else but with my Hipster PDA)
I caught up with downloaded podcasts (I guess I must have listened for over 40 hours during my time away -- others read, I earphoned myself and listened)
I worked out the wherewithall of my mini disk recorder and its associated entities
I stepped back so that on my return to my domicile I could step forward.
The end result is that I have plans -- indeededoo! I have plans for the year ahead. Do-able plans, mind you -- steady-as-it-goes sort of plans, which may now be attainable because my health has improved by dint of consistent effort at 'improving' it.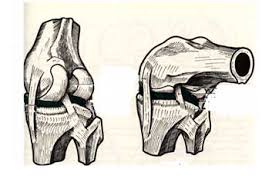 And fortunately 2006 is OVER!. What an awful year for me it was. I spent so much of it crippled and laid up, held hostage by handicap, that I'm glad that years have a beginning and an end. And a week into 2006 I injured my knee such that it took me most of the next 10 months to overcome it! Such a poorly designed anatomical feature is the Achilles heel (huh!) of our hominid evolution. Walking upright may have its charms but it sure relies a lot on the knees being in working order --and and when they aren't...?

So don't dance about more than you should -- that's the message. Knees up very carefully.

So come this recent hol I spent a lot of time wading knee deep in the surf training up my enclosed physiology to go hither and thither without protest or calamity. My one consolidation is that I am neither a Christian nor a Mohammedan and could spend 2006 -- this year past -- without any doctrinal prescription that I spend part of it on my knees.

Thanks be the Lord for that!