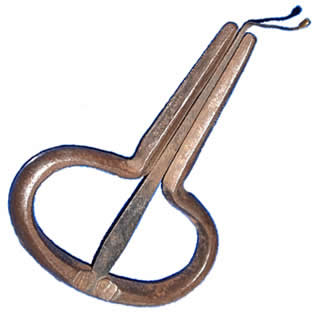 I am a musician --not! I've played
clawhammer
5 string banjo; the harmonica; the
bodhran
and other
frame drums
; I even own a homemade
gamelan
set!...but my latest inspiration is the
jew's harp.
I'm master of none of these instruments , of course, merely a dabbler. >>


If you are a listener to the Ratbag Radio Network podcasts you will know that I have been employing jew's harp improvisations as the signature tune/sound lead in for The Blather. Thats' me and my mouth there -- but I'm not very good. So in considering my refit for this year -- what better way to relaunch than with a new tune. So I approached The Jew's Harp Guild for some audio which I could sample.

So now we are in chat mode with a few j-harpers around the world and if you want to explore what's on offer check out the catalogue and the thoroughly worthwhile site run by Dan Moi. which is a specialty supplier of instruments and CDs based in Germany. (Dan Moi refers to the Vietnamese version of the j-harp.)

Similarly Mouth Music is keen to sign on -- but for the moment I'm going to run with some of the audio created by Danibal, a sort of j-harp hip hop/beatbox artist from the Netherlands. Check out his great mouth music here.

So folks, whether you want to go there or not -- welcome to the wonderful world of j-harping. I'm so taken with these sounds*that I hope to explore ways I can expand my coverage of al things jew's harping.


*These sounds:
I think I'm a frustrated Dervish as archaic musical modes overpower me. I love classical Persian music and a lot of stuff, especially on frame drums, generated in the Arab world. Gamelan owes a lot to this tradition too. Of course a lot of this is pitched as a spiritual intonation such that it really gets under your skin and burrows into the brain. I drift off to another state of being --and it's a drug free journey! 'Tis amazing that a simple instrument like the jew's harp can take you (or at least 'me') there.