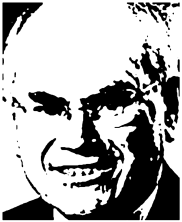 It is not generally known that I make masks.I'm quite a good mask maker and used to earn some money from my sculptured designs. But ill health has frustrated my activity in matters sculptural.
But then, wait for it!: I couldn't let this pending federal poll go by without making something to send Johnny on his way. So I'm making a John Howard mask as a parting gesture.
It just happens that there is a video available that shows you all how to make face masks the way I have developed the technique -- a technique, which I don't mind telling you, is all very unique.

I will try to convert that video to a format that I can upload and share on the web with you.

But in regard to our present exercise -- John Winston Howard -- I will record here/blog here (along with pictures) the story of how I will go about making Johnny into a wearable mask for street theatrical satires . I have a few orders you see, and will make and ship Johnny to places within the four walls of Australia where they can be put to work creating political mischief.

And as for my health returns (as this project indicates) so too may my penchant for satire. For example --from days of yore:


John Winston Howard,

MHR

(Lib)

Bennelong

: Get a load of that deficit! Phew! What a big '

un

! You could have knocked me over with a feather. I said to my

offsider

-- didn't I, Pete? -- I said, "What we have here is a failure of big government". And then I said to him -- and I'll say it to you all -- "We will now begin to construct the new order". Just like that! Talk about inspired. The muse was upon me.

From here on in, the sky's the limit for the little bloke. No sweat. We're taking big government off your backs. [Rapturous applause.]



Please, let me finish. Under my government, everything is up for grabs. I'll be sitting down with the states and offering them first bite of the cake. We will be open to any offers. Let's see them print their own money or raise their own army if they want to. I've an open mind about this. Why not? Or, better still, let the towns and municipalities do it. I tell you, small is beautiful. Let's hear it for smallness.

[Cheers and chanting: "Small! Small! Small!]



Just call me Little John -- 'cause I'm big on being little.



[INTERJECTION: "And a little goes a long way!"]



The Honourable Member has said it. And while we are on a roll, before you can say Robert Gordon Menzies, we'll be shutting down Canberra. Even as I speak we are negotiating to sell it.

Once we've divested ourselves of the public sector, what use have we for this place? Converted to a family entertainment centre, Disney enterprises are keen to realise its potential for big grosses.

Because, as you know, the institution of the family is sacred to us all. It is the key to our success. The little people of Australia -- they don't want big government breathing down their necks telling them what to do and what they can and cannot earn. No. They want to get up each morning knowing that mum and dad are still number one. They want to know that the traditions we hold dear : the Christian -- eh, Jewish -- eh,

Moslem

-- eh, Scientology -- ethic of hard work and forbearance are back in place where they should be: in the hearts and minds of the littlest people of all -- our children.



[INTERJECTION: "No more lazy, good-for-nothing bums!"]



Once again, the Honourable Member has said it much better than I. My government -- the Howard government -- will represent all Australians. Mine will be a government that dares to believe in the potential of all the little people out there -- all the battlers who've had it so hard these last 13 long years -- to stand on their own two mini-feet and make their own small way in the world without fear or favour.

That's my promise. That's the new order I'm on about. But to get there -- to convert the Australian emu of big government into a bantam heralding with its crow a new dawn -- won't come easily. But bear with me. We have begun this great task with confidence and with our enemies in disarray.

So if you consult the auction catalogues you have before you, we can start the bidding with Lot 274 --

Telstra

telecommunications carrier, heavily capitalised, with strong growth potential. A truly excellent investment opportunity for some lucky entrepreneur. What do I hear?

And of course there is that other key political tool:

Venting my spleen

I cannot claim to possess oodles of imagination. But I have my moments. Sometimes I can envisage such bizarre delights that I can entertain myself for hours. Perhaps I really am a creative type person. An artist. A political aesthete. (Or maybe an undiagnosed

hebephrenic

schizophrenic.)

If I am -- well it's all to the good. I'm sure we could all do with more of it as we go about our

ADL

-- activities of daily living. It's entertaining to be blessed with such ready amusements. But all my readers will know that I am not a mere thinker -- grand though I may be in that regard. I am very hands-on when it comes to the execution of my every-now-and-then musings. I am a doer, an activist -- and bloody proud of that I am too.

So many thoughts of mine, particularly the good ones, insist on some investment of time and energy to bring them into existence outside the confines of my

ooey

gooey grey matter up top.

And I have hit upon a corker of an idea: the John Winston Howard Ventriloquist's Dummy!

What do you reckon? A vent -- because that's what they're called by their handlers; "dummy" only upsets them -- which can be adopted by any thinking Australian who is over 18 and registered on the Commonwealth electoral roll. It wouldn't do for unqualified personnel to be in possession of such a powerful tool as their own domesticated PM.

So taken have I become with this notion that next to me as I write is the head of the aforesaid gentleman. I call him Winston. Say hello, Winston ... You have to realise that talking is about all he is capable of -- being, if you'll excuse me, Winston -- a bit of a dummy in all other respects.

I am very proud of Winston. While he possesses a head much larger than I would have liked, I do think we have captured the likeness of the -- I was going to say "real thing", but I should say other one.

Of course Winston is not finished. He is, after all, only a head -- and one made entirely of mud. He is, for the moment, somewhat muddle-headed -- but just you wait. The boy and I have big plans. (Don't we, Winston?) We sure do.

This here little fella is going to be my

Pinochio

. (You're my little

Pinochio

aren't you, Winston? You sure are. And daddy loves you, doesn't he?) But to breathe life into him -- good fairies offering three free wishes being hard to come by in the suburbs -- one needs to brush up on their ventriloquism.

As I understand it, ventriloquism is not taught at any level of the Australian educational system. Well, it should be! But since it is not, Life of Riley Enterprises will be offering correspondence courses in this neglected social skill. Make friends, impress your business colleagues, be a hit at parties, pick up lovers -- it's simple! Study ventriloquism by correspondence.

And you can one day be the guardian of the nation. That's right! You can adopt the prime minister and be responsible for his every act and opinion. Since you're always complaining about who you are forced to vote for, now you can make it all happen within the confines of your own living room, with your very own parliamentary majority, inner cabinet and front bench rolled into one. In future you call the shots. Winston can be yours to do with what you please.

Let's just say that we want this to be a creative process geared to niceness, and we won't let Winston go to any home in which we fear he may be abused. We're doing this for the greater good, and we expect Winston to be a tool for something kind of wonderful.

We want to be proud of Winston. We want to be able to look at him and say: "That's my boy. No better dummy ever led the country."